New Mountain Biking Trails in Cannon Beach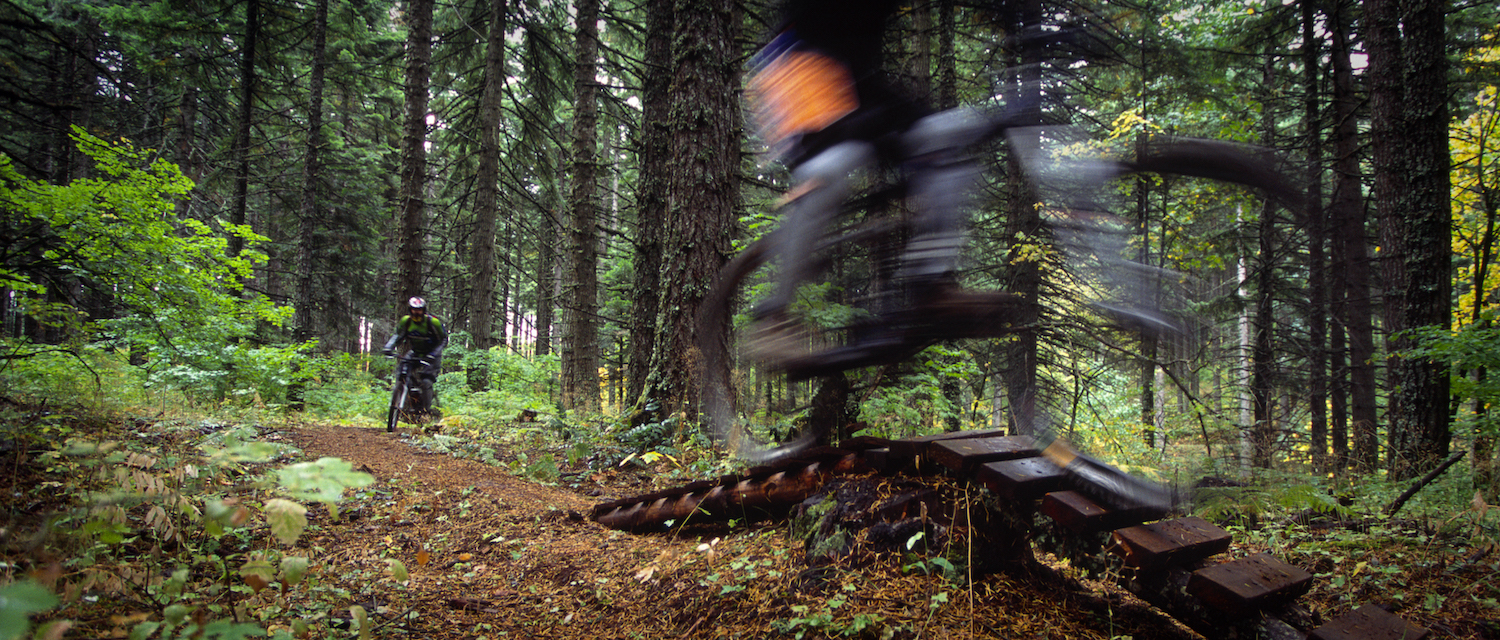 Published May 26, 2021
The North Coast Trail Alliance has recently unveiled the first couple trails of their 40-mile trail project that will put the Cannon Beach area on the map as an Oregon Coast mountain biking destination.
The Oregon Coast has all the makings for world-class mountain biking: beautiful and shady forests, rivers, mountains, breathtaking seaside vistas and plenty of breweries, restaurants and coffee shops to fuel two-wheeled adventures.

Klootchy Creek Trails
Klootchy Creek Country Park is located northwest of the intersection of Highway 26 and Highway 101. The country park serves as primary access to the initial North Coast Trail Alliance project: Klootchy Creek Trails.
Currently, the trails offer 5 miles of riding, with trails rated easy to difficult. The first 3 miles of trails opened in 2019, and two more miles became available spring 2021.
West Hawley and Defibrillator were most recently added to the roster and provide more advanced riders with a new experience. Climb the well-shaded West Hawley gravel road for 1 mile to access the Defibrillator trailed. Some parts of the climb are a little punchy and will get the quads and lungs pumping, but then the terrain levels out a bit and provides a break.
Once you're at the top of Defibrillator, a steep (but fun) .8-mile descent awaits. If you're keen to defy a little gravity, you'll love this trail's (non-mandatory) jumps. Defibrillator features a flowy, fast descent through a beautiful conifer forest, complete with a fun mix of roots and loam (decomposed sand, clay, and silt, common in conifer forests and a coveted mountain biking trail soil).
The Klootchy Creek Trails offer a mix of family-friendly climbing trails, blue and black rated backcountry single track as well as bike optimized blue and black rated descending trails. This local mountain biking project is an innovative partnership between Lewis & Clark Timberlands, Northwest Trail Alliance, and Clatsop County, and as locals, we couldn't be more proud and excited to welcome this new sport to the area.
Local Cannon Beach Mountain Bike Shops
Since mountain biking is a newer sport to the area, there isn't yet a plethora of mountain biking rentals, sales, and repairs available. However, there is one stand-out:
Bikes and Beyond
. Located in Astoria (just north of Cannon Beach), Bikes and Beyond has been the local leader in bike sales and service on the North Coast for nearly 35 years. If you're derailleur breaks or you need more brake fluid or (gasp) a shock rebuilt -- this is where you'll want to go. In addition, if you're looking to try the sport out for the first time, the local pros at Bikes and Beyond will get you set up with the perfect rental.
Where to Stay in Cannon Beach
A Cannon Beach vacation rental is by far your best bet if you're looking for convenience to the trailhead, as well as all the best local dining and shopping and local beaches. Beachcomber Vacation Homes have been managing and renting Cannon Beach vacation rentals for decades and will help get you in the perfect rental. Our hand-selected, professionally managed inventory includes
beachfront rentals
,
oceanview rentals
, rentals close to downtown,
pet-friendly rentals
, rentals with a
hot tub
or
pool
, and more. Give us a call at
855-219-4758
today or start by
searching our rentals online.