Oregon Coast Fishing Guide
From freshwater alpine lakes and rivers to offshore charters, Oregon's fishing opportunities span across the state all year round. Fishing is one of the many favorite pastimes of both guests and locals, so if you're looking to unwind under the evergreens by casting a line at one of the many premier fishing locations on the northern coast— you're in luck! We've put together this guide to fishing on the Oregon Coast with tips from local anglers to help you plan the ultimate fishing getaway during your next trip to Cannon Beach.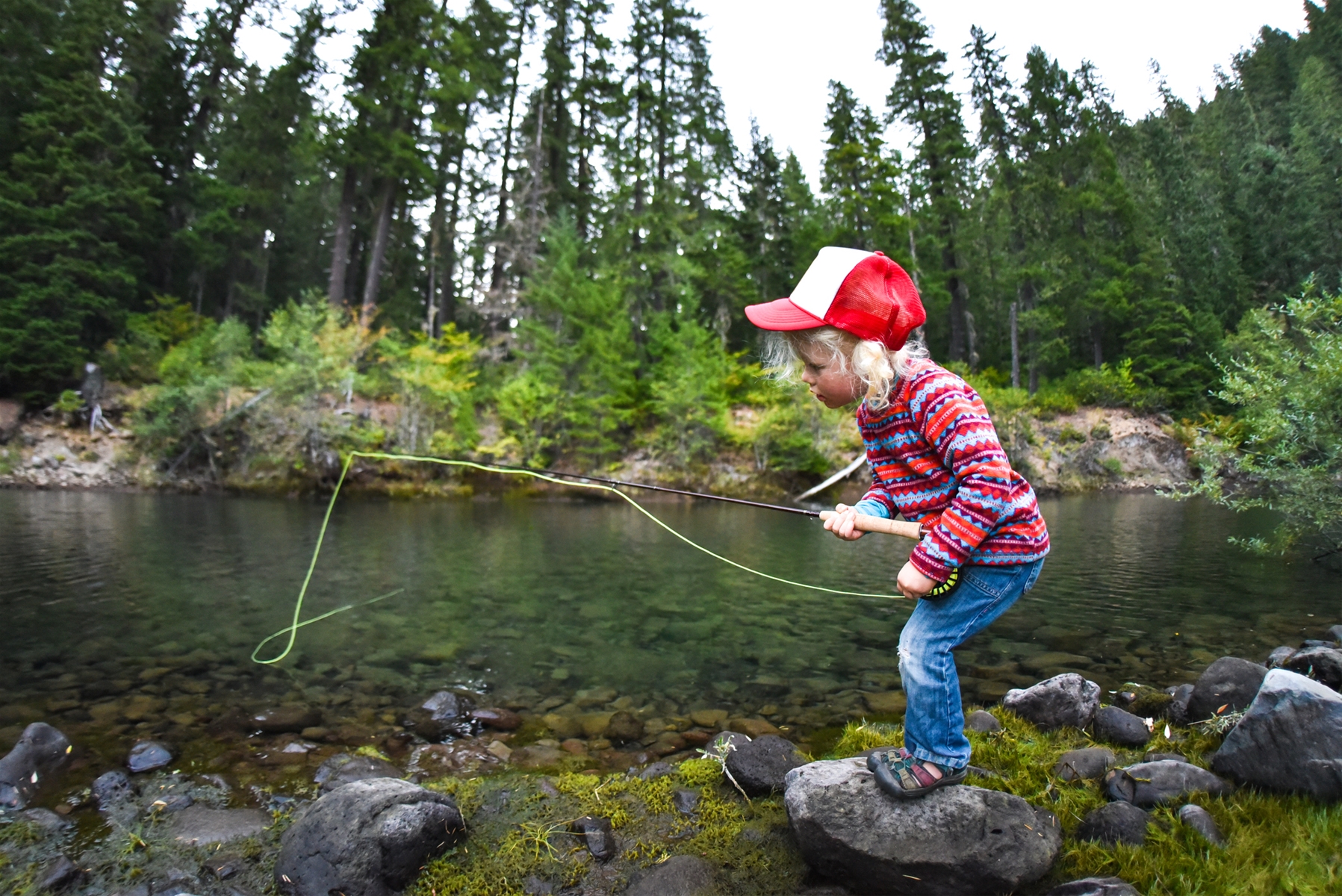 When it comes to fishing in Oregon, there are as many ways to wet your hook as there are to bait it, which means it can be overwhelming trying to figure out what the best way will be for your fishing excursion.
Some of the most popular fishing methods for anglers on the north coast include deep-sea fishing & crabbing on a charter; shore fishing; freshwater fishing in lakes, rivers, and tributaries; and even clamming. These can all be done within an hour's drive from your Cannon Beach vacation rental, though there are specific regulations and license you should be aware of for each type of fishing.
Anyone over 12 needs a basic fishing license for trout and bass & additional tags are required for salmon, steelhead, and other ocean fish. Trout over 8 inches and bass can be caught year-round in lakes with only bag limits, but they share a bait restriction with steelhead and salmon during the summer (May 22-Aug 31) for spawning season. During this time, angling is restricted to artificial flies & lures in streams above tidewater (any running freshwater leading toward the ocean that is not affected by the tide) with exceptions near hatcheries so be sure to check ODFW's site for local notices.
Ways To Make Your Catch
If you're a newer angler looking to set up on one of the many coastal lakes for the day, the gear needed is simple; just a pole, some 10lb fishing line, split shot weights, and an assortment of hooks and baits to find what works best for you. You can usually use the same gear for both bass and trout. This is a great way to introduce your kids to fishing as the stakes are low and the payoff can be great! Bring your chair to the shore, teach the kids how to bait their hook and cast, then kick back and relax while you share quality time.
A local tip: when fishing for trout, the pink marshmallow bait will have them lining up to hop on your hook! The easiest things to catch at first will be branches and rocks. Practice casting a few times with just a weight before adding a hook and bait to get the feel for the pole and conditions.
Flyfishing
If you enjoy flyfishing, then head towards the mountains to one of the many mighty rivers that feed into the ocean in northwestern Oregon and try your luck at steelhead, salmon, trout, and bass. The Nehalem & Wilson Rivers are a few minutes south, and the mouth of the Columbia River Gorge is just a short drive north and all offer a huge variety of euryhaline fish (a fish that can be in both fresh and saltwater). During the summer, the only type of fishing allowed on most streams and rivers is fly fishing as it's spawning season for many native fish.
A local tip: Use caution when wading into the water for flyfishing. The water will be cold and moving fast from snow melt, so be sure to come prepared!
Shore Fishing
If you're looking to spend your days on the sandy beaches doing some shore fishing for rockfish, surfperch, and flatfish, you can do so from just about anywhere on the coast! All beaches in Oregon are public land so you can cast out from just about anywhere that feels good, but it's important to know where your target likes to congregate. You can often find rockfish and surfperch close to shore near where waterways run into the ocean and near tidepools and jetties.
A Local Tip: Many shorefish prefer habitats near rocky areas where they can hide from predators. Please practice extreme caution and leave no trace principles on the rocks as they are part of the delicate tidepool ecosystems and can be extremely slippery

Fishing Charters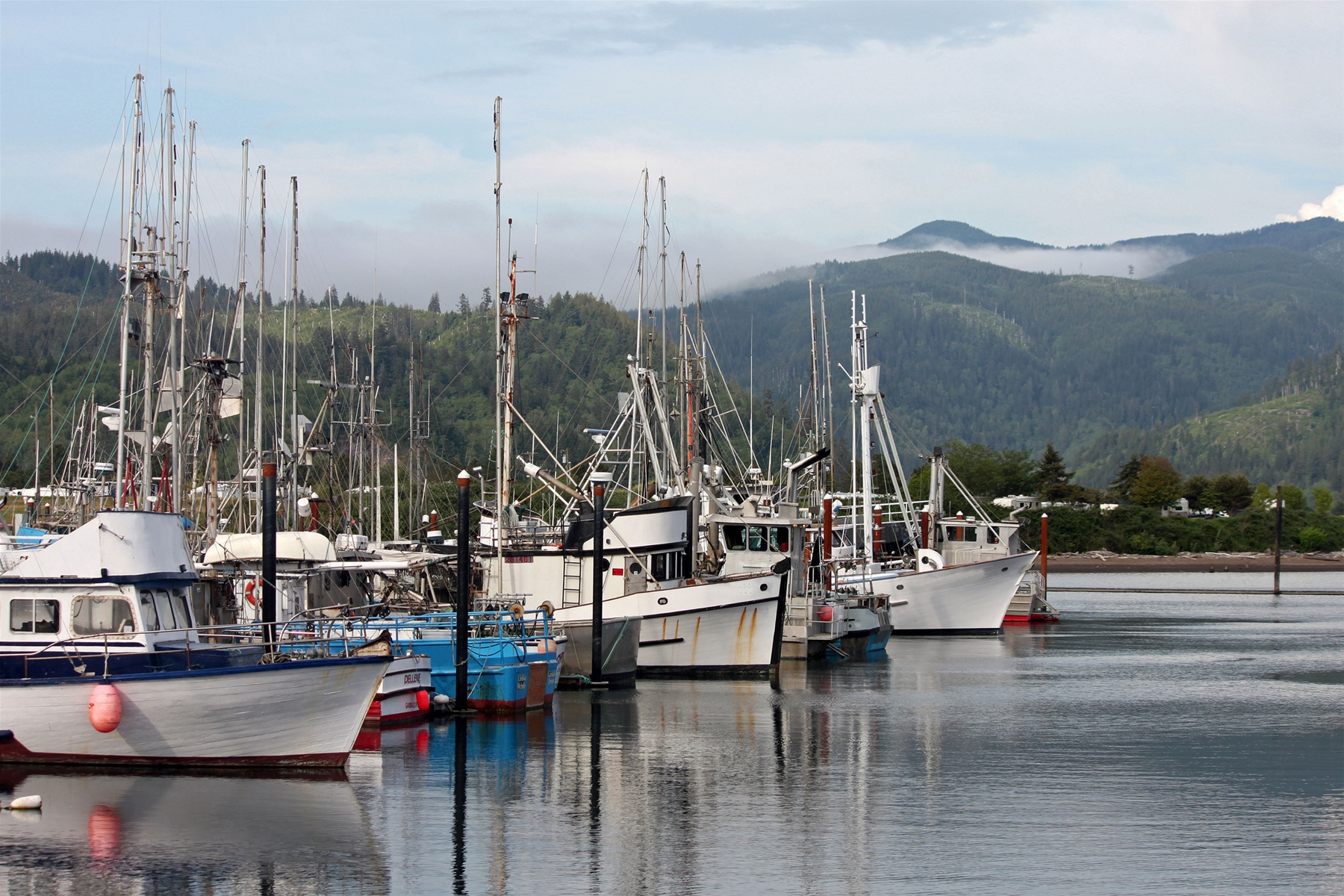 If you're looking for a memorable fishing experience, a guest favorite is booking a charter boat. With an experienced guide, you can catch tuna, Pacific halibut, salmon, steelhead, and more. Most charters include gear, fishing licenses & tags, and oftentimes lunch which make them perfect for guests who are looking for a simple and fun way to get out and enjoy the coast from a unique point of view while they cast a line! There are several great charter groups that launch from nearby bays, and many also offer crabbing expeditions as well.
A local tip: if you've never gone on a boat on the ocean, seasickness can surprise you. The most turbulent waters are usually as you go from the bay out into open water so be prepared with ginger chews or non-drowsy motion sickness medicine and sit back and daydream of all the monsters you'll shortly be catching.
Crabbing & Clamming
With 360 miles of coastline, it's no surprise that crabbing and clamming are so popular! Digging for razor clams is a great way to get the kids worn out. Check out more about clamming here.
Crabbing for Dungeness and red rock crab is most often done via boat. There are a lot of great charter companies in the area with experienced guides that can help you get crab pots in the water, then pots full of crabs on the stove! You can also drop pots from docks, many local fishing shops have crab pots available to rent. Learn more about crabbing on the Oregon coast here.
There's a lot to know about angling opportunities in northwest Oregon. You can fish in freshwater, from the beach and jetties, and even learn from a sportfishing guide! We hope that you found this guide helpful in planning your Cannon Beach fishing trip. Don't forget to book your vacation rental for an unforgettable stay on the Oregon coast!